ORDERS
PAYMENT
DELIVERY
RETURNS
ORDERS
---

1. How do I set up an account?
First of all, click on "My account" on the top right of the screen.
Then, under "New customer", click on "Create an account", having first read our privacy policy.
Then fill in the registration form provided and confirm by "Register".
You'll then receive a confirmation by email.
2. How do I place an order?
First identify yourself on your account, then:
1. Select a product.
2. Choose your size from the list of available sizes.
3. Select the quantity you wish to order.
4. Click on "Add to basket".
The added products will appear in your basket: you can consult this on "My basket".
5. Consult your basket to check its content.
6. Click on "Confirm the Order".
7. Enter the type of delivery you require, along with your payment method, then click on "Finalise the Order", having first accepted our general terms and conditions of sale.
8. You are then redirected to the secure payment platform to make your payment.
Finally, you'll receive an email to confirm your order.
3. How can I ensure that my order his been recorded?
When you place your order, we send you a confirmation email to confirm that we have received it. To track your order, go to your customer space in "My orders" then click on "Track my order".
4. When is my order recognised and processed?
Orders placed before 6am (French time) are sent for preparation that day.
5. Can I change or cancel my order?
You cannot change the content of a confirmed order but you can withdraw within 14 days of receiving the articles. For further information about your right of withdrawal, please refer to the model set out in our general terms and conditions of sale. Once you have cancelled your order, you may place a new order.
6. From which countries is it possible to order on ZESPA?
We deliver our products in Metropolitan France, Corsica and Monaco. We also deliver within Europe and in certain other countries worldwide. You'll find a list of countries to which we deliver when you register and also in the "delivery prices" table in the DELIVERY tab.
Customers who place an order from a non-EU country agree to pay all the taxes due on the importation of the product, customs duties, VAT and any other taxes due under the laws of the country to which the product is delivered.
7. How can I check whether a product is available?
The products shown on ZESPA correspond to our available stock. Only the available sizes are offered. However, it may be that a model is out of stock in your size or that a pair shown to be available is no longer in stock due to a computer error.
8. How can I find out where the nearest Zespa retailers are located?
If ever a model is not available on our website, you can check the list of our retailers at any time by clicking on "Retailers" and entering the address of your choice.
PAYMENT
---
1. What are the different means of payment available on ZESPA?
You may pay for your purchases using one of the payment methods below:
– Bank card: Carte Bleue, VISA, MasterCard, Maestro
– PayPal account
If you have chosen to pay by bank card, enter your card number, expiry date and visual cryptogram, which you'll find on the back of your card.
2. How are online payments made secure on ZESPA?
ZESPA pays particular attention to questions of security concerning Internet payments. Your bank details are sent to our server in encrypted form via the SSL protocol (Secure Socket Layer) and are transferred to our bank in a totally secure environment.
Payment is made totally secure by our bank partner's online payment system. Your bank details are sent via the Internet in encrypted form only, i.e. they are coded in such a way as to make them totally illegible. From a technical point of view, the secure system is based on SSL (Secure Socket Layer) encryption. This payment solution is the most commonly used in France for Internet payments.
LIVRAISON

---

1. What are the different delivery methods available? How much do they cost? What are the delivery times?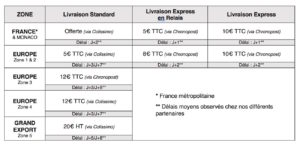 EUROPE – Zone 1 & 2: Germany, Austria, Belgium, Spain, Ireland, Italy, Luxembourg, Netherlands, Portugal, United Kingdom
EUROPE – Zone 3: Bulgaria, Denmark, Estonia, Finland, Greece, Hungary, Latvia, Lithuania, Poland, Rumania, Czech Republic, Slovakia, Slovenia, Sweden
EUROPE – Zone 4: Cyprus, Croatia, Iceland, Malta, Norway, Switzerland
INTERNATIONAL EXPORT – Zone 5: Australia, Canada, China, South Korea, United States (USA), Hong Kong, Israel, Japan, Singapore
2. How long before my order is dispatched?
The order is sent to our logistics team as soon as it is confirmed. We then hand the package over to the chosen carrier so that you can receive your delivery as soon as possible. Apart from special operations and sales, all orders received after 1.00pm will therefore be prepared and dispatched on D+1, except on Saturdays, Sundays and public holidays.
3. How can I track my order?
Once we have dispatched your order, the carrier will send you an email with a link to allow you to track your package. You can also track the progress of your order in your "My account" space.
4. What happens if I'm not at home to accept the delivery?
If you have chosen Colissimo, the package is delivered direct to your home. If you're absent when the postman or delivery man calls, a delivery notification will be left in your letter-box. The delivery notification gives details of the time and date of calling and the post office from which you can collect your package. In this case, you must go to that post office, taking with you the delivery notification and proof of identity.
If you're absent on the day of a Chronopost delivery, you'll receive a message giving a precise time slot during which the driver will call.
If you're absent, a delivery notification will be left in your letter-box and the package will be left in a nearby Pick-up Point.
5. Can I have my order delivered to an address other than my home?
Your ZESPA account allows you to register more than one delivery address, so you can choose to have your order delivered direct to your home or to another chosen address.
You also have the option of collecting your package from a Pick-up Point. Simply choose "Pick-up Point" as the type of delivery when you place your order.
6. What do I do if I haven't received my order?
First of all, check the status of the order and the shipment tracking information.
If the announced delivery times are not adhered to, contact us by email on bonjour@zespa.fr.
If you haven't received your package at the Pick-up Point shown in your order, contact the Chronopost service direct on 09 69 391 391 (no call surcharge).
RETURNS

---
1. How do I return an article?
If you make the request and on the condition that you return your order within 14 days of delivery in its original condition, unused and in its original packaging in compliance with our general terms and conditions of sale, ZESPA will refund your order. In the event of a refund, we will re-credit your bank account for the value of the article you have returned.
To return an article, notify us first of all by going to "My account" then "My orders" then "Make a return". Then follow the subsequent stages.
2. Where do I return an article?
Once you have notified us of your return request, please send the article to the following address:
Sauerbrei Logistics France,
11 rue de la Marne, 77400, Saint Thibault-des-Vignes
Tel: 01 60 07 26 15
For the attention of Mr Arnaud Deyzieux
3. How do I return an international order outside France and Europe?
These are the stages to follow to return your international order:
1. Remove the documents from the transparent wallet attached to your order packaging
2. Find the sheet headed "Customs Declaration / CN23"
3. Tick the "Goods return" box
4. Put the documents back in the transparent envelope
5. Send your package via your local post office (you must pay the postage costs)
ZESPA reserves the right to refuse to accept an international return if the sender does not follow the stages set out above. In this case, it will be returned to the sender.
How long do I have in which to return an article?
You have 14 days from the moment at which you received it in which to return it. The article must simply be in its original condition, unused and in its original packaging.
4. Who pays the return cost?
If you are not fully satisfied with the product, you have 14 days from the date of delivery of the package in which to return the article(s) concerned.
Returns are free if your order is delivered in Metropolitan France (including Monaco). For international orders, the customer must pay the cost of the return.
Articles will only be accepted if they are returned in their original condition, unused and in the original packaging, accompanied by the "Return request", duly filled in.