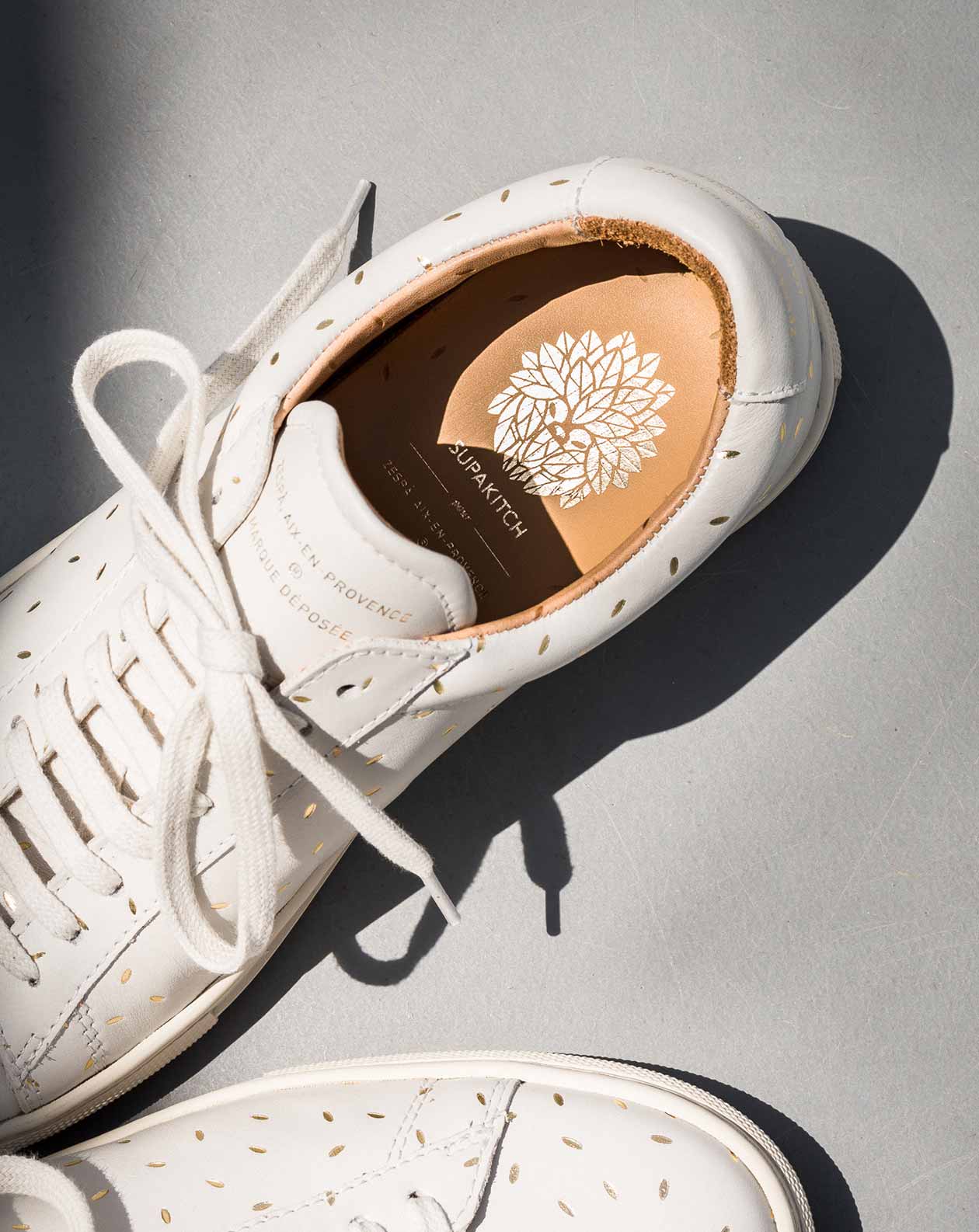 We wanted to make an artistic collaboration around one of our shoes, so we invited the artist "Supakitch" to collaborate with us. 
Supakitch is a French artist internationally recognized for his strong and singular graphic universe. He has been educated with mangas and hip-hop culture, passionate about art and music from an early age, Supakitch has found in street art a wide choice of mediums and inspirations. He began graffiti in the early 90s and began to show his works to the public and to call himself Supakitch in the early 2000s. He has signed very successful collaborations with Carhartt, Volvo or Converse, and seen his interest in fashion he welcomed the idea of ​​collaborating with us in a very good way.
By mixing creativity and know-how, Zespà and Supakitch have subsequently dressed the ZSP4 with one of the artist's signature motifs, an "all-over" of golden petals. For this achievement, each petal is gilded hot on the leather on the outside of the shoe. The same pattern is marked hot, on the leather lining of the shoe. On the insole, the logo with which Supakitch signs his achievements is gilded hot. The sporty chic codes of the ZSP4 are here magnified by a selection of exceptional material, and exclusive manufacturing processes. 
The result is a chic and sleek design that combines creativity, elegance and craftsmanship. This model was realized in exclusivity and in limited series for 24 sèvres and Le Bon Marché.
Kinfolk's Creative Director, Jey Perie, who is also from the South of France, is excited to be able to showcase the quality and design of the Zespa brand in New York, but is also delighted to add a touch of Kinfolk and New York to the shoe. And so we made a classy and elegant shoe with a Kinfolk detail on the tongue, we used our classic model the ZSP4 with its iconic white and blue colors. The model was sold exclusively at Kinfolk and at 4 other retailers.